---
Blog — artists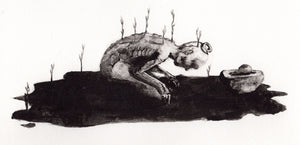 Posted by J Meyers on
This month Dark Art & Craft talked to Oakland based monotype Artist Grady Gordon. Gordon's raw ink monotypes are filled with textured figures, landscapes and ominous skulls on stark backgrounds. 
---

Posted by Stephanie Crumley on
Tomorrow is the opening of our first-ever art show, "From the Depths," at Ars Memoria, co-curated with Catherine Matthews. The show features a blend of artists hand selected by curators as well as several people who submitted their entries via Instagram. We were blown away by all of the amazing talent that we have seen in the past few months and are so excited for this amazing show. The list of artists includes: Aaron Unser Bam MaslarBob Jonkers Caroline HarrisonCaroline Vitelli Cristina Tzani Dusty RayEmily SteigerwaldFelipe FroederJason BransonJason VivonaJessi JacobJohn AiroJosh McAlear Kathleen NearyLucas RuggieriLaura Prieto-VelascoIkisidioMatt LombardMichelle DuganPierre SantosRevolting WorshipSam...