---
Blog — haunted history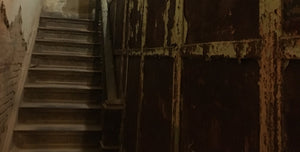 Posted by Stephanie Crumley on
When I first moved to Ohio, one of the places I was most excited about seeing was the Ohio State Reformatory (aka Mansfield Reformatory). Photos show a beautiful medley of Victorian Gothic meets Romanesque Revival, its interiors frozen in the mid-twentieth century, never aging or changing thanks to state funding. 
---
Posted by Stephanie Crumley on
The UK has always been on my must-visit list. Growing up in Southern California the notion of "historic" came from the white colonized perspective, meaning buildings created in the nineteenth century.  The prospect of seeing towering fabricated behemoths that have seen anywhere from a thousand to several hundred years standing prominently amongst the contemporary cityscape was something I could barely conceive. I often travel to see the originating locations of urban lore and legends. I'm sure a lot of you reading this can relate to it, it's definitely in our niche. "Our," being the target audience of dark art lovers...